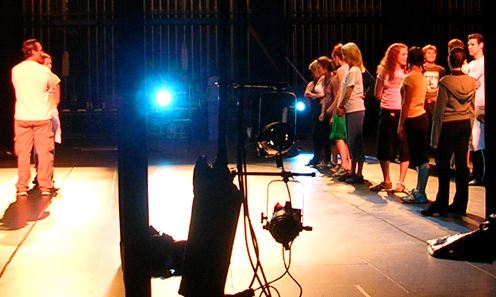 Georgia is now among the top five U.S. states for film and TV production with more than 274 projects shot in the state since July 2010.
Movies filmed in the state are premiering throughout the summer and fall. They range from this weekend's X-Men: First Class to October's remake of Footloose. Other Georgia-based films coming out include The Change-Up starring Ryan Reynolds and Jason Bateman and Wanderlust with Jennifer Anniston and Paul Rudd. And TV shows include MTV's Teen Wolf, the Discovery Channel's Auction Kings and AMC's The Walking Dead.
The economic impact of the filming is estimated at $2.1 billion. The state gives a tax break of 20 percent to many productions, with an additional 10 percent break to films and shows that feature a Georgia promotional logo.
Efforts in production as of this week include The Three Stooges which has been shooting scenes in Atlanta for the past several weeks and season two of AMC's The Walking Dead, which began shooting Monday in Henry County. The Walking Dead, a zombie drama will film 13 episodes all around Metro Atlanta this summer to air in the fall. The show was just nominated for Best Drama by the Critics Choice TV awards. The new season of Family Feud with Steve Harvey begins shooting 165 episodes next month in Atlanta.
For job opportunities with film projects across the region, visit the Georgia Film, Music & Digital Entertainment Help Wanted Hotline's website. By Michael King. The Associated Press contributed to this report.